Ka-ching version 21
It's here: the Ka-ching Connector app for Shopify
Ka-ching release 21 has landed and is ready for download, and we have been looking forward to sharing this news! Our integration to Shopify is tested and ready to go – ready to install. We share 9 benefits of the integration and give a minor update on some of the other new features in this Release. 

New: Ka-ching Connector app for Shopify
Most consumers and customers expect to be able to shop wherever and whenever they want. Meeting their expectations is pivotal for your business to be competitive – so they don't shop elsewhere. Selling anywhere can get complicated, especially if you're using different suppliers and integrations for your online and retail store — which is why we've made it easy for you with our new Shopify integration Ka-ching connector.
POS integrations help make selling across multiple channels easier by sharing product, inventory, sales, and customer information between both systems. It ensures that your data is reliable, whether checking inventory or reviewing your weekly sales.
Your Shopify website and Ka-ching talk to each other and share products, orders, inventory, sales, and customer data.
9 benefits of the integration with Shopify:
Manage your online and retail stores in one place
Spend less time aligning inventory
Avoid overselling inventory
Prevent stocks from harming sales
Get centralized reporting and analytics
Create effective marketing campaigns
Reward customers no matter where they shop
You can find the integration right here – it only takes a few minutes to start.
New features in Ka-ching release 21:
Enrich your customer data. If you have a loyalty program, you can model a 'membership type' (silver, gold, platinum, or something completely different) to suit your business. Other examples could be dividing your customers into different 'discount groups' or calculating an assessment based on previous purchase history. These new customer attributes can trigger discounts in Ka-ching POS — and they're further displayed to store employees so they're best placed to make a sale.
We also have a new iOS widget support so that you can create your own dashboards directly on an iPad or iPhone, and therefore have an overview of all your business data and can filter and search out the information that you find valuable (Tip: See useful examples of how you can use widgets in our Release Notes).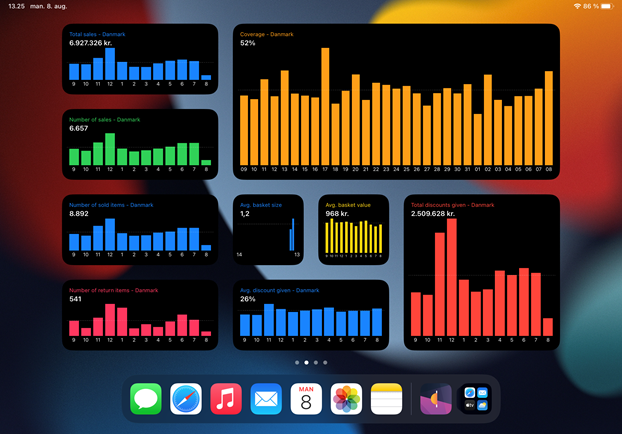 And as always ...
Be sure to read Release Notes and update to the latest version through the Apple App Store — and get your Ka-ching Connector for Shopify from the Shopify App store.